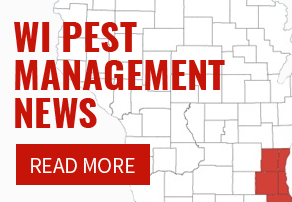 Milwaukee Bed Bug Infestations
Milwaukee Bed Bug Infestations
Bed bugs are parasitic insects, and feed off of blood exclusively. The common bed bug happens to be quite fond of human blood in particular. These pests have been feeding off of humans for thousands of years. However, since 1995 there has been a dramatic increase in bed bug infestations, and the problem is the worst it has been in years. The city of Milwaukee has suffered a 53% increase in bed bug complaints. Once an infestation starts, bed bugs are nearly impossible to exterminate without professional help. For residents and business owners in the Milwaukee area, A-Landlords is here to help.
Bed Bugs in Your Milwaukee Home
There are some common signs to look for when determining if your home has become a host for an unwanted beg bug infestation. The first, most obvious sign will be bed bug bites. Small, itchy red spots, typically on the hands, face, and/or arms. If you have bites matching this description, it means you have unwillingly fed a family of bed bugs. Other signs are small dark stains on your upholstered furniture (e.g. sofas or reclining chairs) or mattresses, the presence of small white bed bug eggs, and live bed bugs. Since adults are dark brown in color and grow to about the size of an apple seed, many people report seeing these pests scurrying around their homes. In Wisconsin, bed bug infestations peak during the warm summer months.
Bed Bugs in Your Milwaukee Business
Nothing can tarnish the reputation of a business like news of a bed bug infestation. A client or employee may unknowingly pick bed bugs at a meeting with your business, then quickly transfer them to their car and home. With quick action, the pest problem can be wiped out before spiraling out of control. The best way to decrease your risk of increasing a bed bug population is to wash all sheets in the hottest water available, for the longest wash cycle. Frequent vacuuming of infested spaces and covering upholstered surfaces with plastic or any type of polyethylene material can kill off any bed bugs currently residing in hotel mattresses or upholstered office furniture. If you think there is a bed bug problem in your business, contact A-Landlords today for quick efficient bed bug extermination.
Bed Bug Treatments Milwaukee Can Trust
A-Landlords provides outstanding, professional pest control services. Due to the rapid reproducing nature of bed bugs, and their excellent ability to hide and burrow into their surroundings, getting professional help quickly is the only way to ensure your home will be pest free. You can aid in the eradication process with these simple tips. Never bring discarded furniture into your home, and always thoroughly inspect thrift store finds. If you notice your mattress is infected, do not move and sleep on the couch. You could be unintentionally spreading the bed bugs to a new breeding ground. With some preventative measures and the help of A-Landlord's Milwaukee professional exterminating services, you can rest easy in your home.
Contact our Milwaukee Bed Bug Exterminators for expert pest control services ridding your home and business of bed bug infestations.