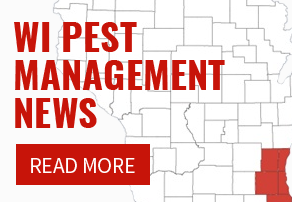 Wisconsin Boxelder Bug Exterminator
The A-Landlords exterminators receive calls for boxelder bugs year round in Southeast Wisconsin. With decades of experience providing the most cost-effective, high-quality services in the Milwaukee, West Allis and Wauwatosa, our Pest Control Company is the best option for quick and affordable eradication of all pests. Our Milwaukee boxelder bug control experts use the most effective techniques refined over years of pest control experience. We pride ourselves on delivering unbeatable results for all of our clients. If you feel your home is infested with boxelders, call A-Landlords for affordable extermination services - if you see one, there's probably more!
Exterminating Boxelder Bugs in Wisconsin
If you're sick of these in and around your house, call A-Landlords Pest Management. Boxelders are one of the most common pests we face, so we know how to properly get rid of them. We thoroughly examine all of our client's homes and/or businesses to determine the source of the infestation and select the most effective solution.
Boxelder bugs are named after their summer home, the Box Elder tree. If you have any of these trees around your home or business, be on the lookout for boxelder bugs year round. In the winter, boxelder bugs will follow the warmth indoors through cracks and crevices in your building.
Boxelder bug feces leaves stains in your carpet, on walls, and other fabrics, so it's important to get them exterminated quickly. If they are not addressed, boxelder infestations can be a recurring issue - especially if you have nearby Box Elder trees.

A-Landlord's Industry Leading Boxelder Extermination
A-Landlords Pest Management is the leading boxelder extermination company in Southeastern Wisconsin. Our services are affordable and performed to the highests standards of safety and quality. Our pest control specialists are trained in the removal of all common pests, including but not limited to: mice and rodents, bed bugs, termites, wasps, and ants. Don't make your pest or rodent problem worse by attempting to fix it yourself or settle for a mediocre exterminator. Call A-Landlords Pest Management for quality ant extermination performed for less. See our other pest control services.
Contact our Milwaukee ant control exterminators today to schedule an appointment or to learn more about our comprehensive pest control services.