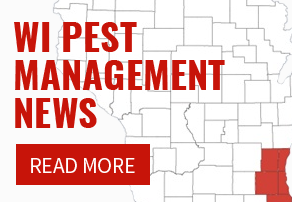 Milwaukee Exterminators Provide Comprehensive Pest Control Services
We are THE Milwaukee Pest Management Experts
For over 25 years, we have provided superior pest control services to our customers. The expert rodent control and pest control services we have delivered and continue to deliver make us the best exterminators Milwaukee has to offer. Your family's comfort is our top priority when it comes to effective pest control. We offer night and weekend appointments at no additional charge because we understand how important it is to keep your home clean and comfortable.
Milwaukee Choice for Bed Bug Infestation Removal
Though our exterminators are experts in all the pest control services we provide, we specialize in the elimination of bed bug infestations. Bed bugs populate very quickly, and can be easily spread throughout your home through passing contact, and those bed bug bites can be the worst.
Bed bugs are extremely difficult to eradicate because they are resistant to commercial extermination products and if you miss just one egg-laying female, the infestation can quickly start again. Using our Milwaukee pest management experts when you have a bed bug problem means you will quickly be enjoying a bed bug free home. Check out our bed bug bite remedies if you've noticed any spots resembling rashes.
Our exterminators utilize the same care and precision used to eliminate bed bugs on each and every pest control problem they resolve.
Pest Control Experts for Every Kind of Infestation
Specialization in bed bug control is only one part of our pest control services. Other insects, like ants, termites and wasps, are easily removed from your home or business by our highly-trained professional exterminators. Larger animals are taken care of with the same level of expertise.
You do not have to try costly, risky pest eradications by yourself.
A failed attempt to remove pests can make the situation worse. Milwaukee pest control specialists eliminate any kind of infestation plaguing your building. Waiting to call A-Landlords for help is only allowing the problem to grow. 414.449.8525 Call now!
Wisconsin Pest Control Company Delivers Superior Lawn Care Services
Superior lawn care services are a major part of what has made A-Landlords the most comprehensive pest control and lawn care specialists in the industry. Providing our customers with a beautifully kept lawn is a service in which we excel. Our lawn care service experts utilize years of experience to adapt services according to seasonal weather.

Related Articles