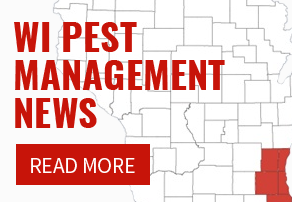 Milwaukee Spider Pest Control
The Milwaukee exterminators from A-Landlords receive calls relating tp spider control mainly in September and October. With decades of experience providing the most cost-effective, highest-quality services in Milwaukee, West Allis and Wauwatosa, we are the best option for quick and affordable eradication of all pests.
Milwaukee's A-Landlords employs state-licensed exterminators who are experts in pest management and utilize the latest extermination knowledge for each process. If your home is being overrun by spiders, call A-Landlords for affordable spider extermination services. Or see our other pest control services.
Milwaukee Spider Problem
In Wisconsin, there are more than 1,000 species of spiders, making them a common problem in the Milwaukee area. Look for spiders in small, dark spaces in your home, such as in the air vents or right outside of your house, such as under your porch light.
Exterminitaing spiders is a diffucult process for many homeowners. Depending on what species of spider is infesting your home, household remedies and pest sprays are often ineffective. Spiders can lay up to 3,000 eggs at once which can quickly lead to an infestation. Call A-Landlords today to solve your spider problems once and for all.
Having spiders can diminish the value of your home.
If you are a landlord or looking to sell your home, you want your property to look its best. The webs spiders leave behind are often associated with items that are "old" or "dirty", diminishing the value of the home to any potential buyers.
Dangerous spiders
There are only two spiders in Wisconsin that are considered dangerous and these spiders are rare (only 5 sightings of the brown recluse in Wisconsin). It is important to know how to identify them in the event you come across one: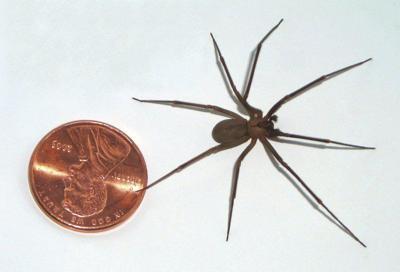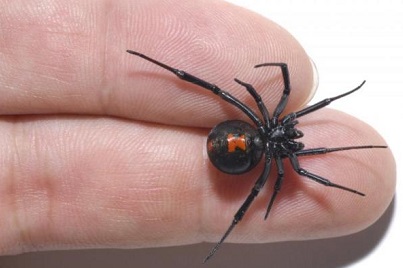 Neither spider bite is life-threatening, but it is important to keep clear of them and call 414-449-8525 immediately. If in the event you get a spider bite by one of these spiders, get medical treatment immediately.
Common Spiders
Wisconsin is home to over 400 different species of spiders. Knowing how to identify these spiders will help in determining plans of action when considering extermination services for some of the more common types of less harmful spiders that can be found in Wisconsin homes and businesses:
Black-footed Yellow Sac Spider
Although these more common spiders are not as dangerous as the Brown Reculse or Northern Widow, it is import to exercise caution when interacting with them. If in the event you get a spider bite, call 414-449-8525 immediately and get medical treatment if necessary.