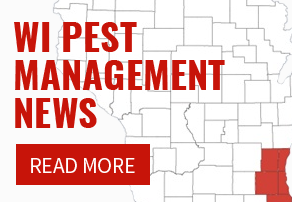 Milwaukee Wasp Exterminator: Eradicating Wasp and Bee Infestations, Removing Hornet Nests
How to get rid of bees, wasps, and hives.
Milwaukee, wasp exterminators from A-Landlords can help eliminate wasp nests wherever they are, no matter how high or difficult to access. When you start seeing wasps around your residence, look up around your roof. They are probably nesting in a higher place.

In Milwaukee, Wauwatosa, and West Allis, the three types of wasps most likely to cause trouble are Bald-Faced Hornets, Yellow Jackets (commonly mistaken for bees), and Paper Wasps.
| | |
| --- | --- |
| Baldfaced Hornets are really nasty. Their body is stout and black with distinctive white striping around their head, abdomen, and stinger. These pests are extremely aggressive and will sting without hesitation if threatened. Once stung, the Baldfaced Hornet will continue to sting you until it is killed or you manage to get away from it. | |
| The Yellow Jacket has yellow and black stripes (like a bee) but it's in the wasp family. Unlike bees, Yellow Jackets have a more slender, hairless body. They are much more aggressive than honey bees and their nests are an upside-down teardrop-shape. Usually there's a single hole in the bottom for them to exist and enter. Nests can be found in trees, shrubs, under decks, or high in the eaves of homes and buildings. If they are nesting near you, you'll know it! | |
| Paper Wasps have a slim body. They'll nest practically anywhere: eave peaks, behind shutters, under decks, in gas grills, on light fixtures, etc. Their nests are small and can be hard to find. Paper Wasps, like the Yellow Jacket, have a painful sting and can sting repeatedly. | |
Bee, Wasp, and Hornet Pest Control Services Keeping Your Home and Family Safe from Stinging Pests
Our professional wasp and bee exterminators from A-Landlords remove wasp nests and spray long-lasting liquid insecticide on all the areas where wasps like to build their nests. This includes gutters, eaves, shutters, and decks. The insecticide is long-lasting and invisible. It kills wasps and hornets on contact. When dry, the EPA-approved treatment is safe and odorless. Since most places wasps like to build nests are in protected areas, the residue usually lasts for quite a while. Say "Goodbye wasps!"

Bumble Bees: Friend or Foe?
Bumble bees are social insects. They live in colonies and for the most part, are reluctant to sting. However, they will defend their nest. In most cases, bumble bees are a sign of a healthy ecosystem. Remember, bees pollinate the flowers which keep your yard beautiful and fragrant and Mother Nature needs them! Try not to have them exterminated unless their nest is inconveniently located. If they are bothering, call our Milwaukee bee exterminators for a quick and affordable solution. Or see our other pest control services.
Contact our Milwaukee Wasp Exterminators for expert bee, wasp, and hornet infestation/nest removal services.