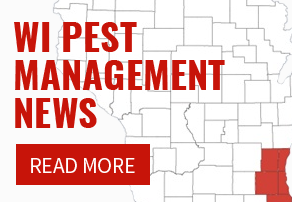 Milwaukee Pest Control Experts with Valuable Bed Bug Knowledge
Over 2 Decades Exterminating Bed Bugs in Milwaukee
A-Landlords Pest Management has over two decades of experience in bed bug extermination, making us the best bed bug exterminators in the Milwaukee area. Our bed bug specialists have extensive knowledge of how to treat and prevent bed bug infestations, without relying on bed bug mattress covers.
We would like to share our knowledge with you by providing helpful tips on how to reduce your risk of a bed bug infestation and what to do if you have one. Trust A-Landlords' friendly experts to help you eradicate and prevent bed bug infestations.


Milwaukee Bed Bug Experts Discuss Pest Habits
Bed bugs are small wingless insects that feed on the blood of mammals. These insects are so small they often go unnoticed until the presence of bed bug bites. Adult bed bugs are about the size of an apple seed and are capable of producing 10-20 eggs per week. This rapid breeding pattern makes these pests extremely difficult to eradicate without professional pest control services.
Humans are ideal hosts for bed bugs because we live in comfortable environments with an abundance of potential nesting areas, such as couches, mattresses and cushioned chairs where they can easily hide. It is extremely easy for an infestation to spread throughout your entire home, as well as other people's homes, making bed bugs even more of a nuisance.
Bed bugs have been feeding on human hosts for thousands of years. They were completely eradicated from most homes in the 1940s, but when DDT was banned in the early 1970s they staged a comeback.
Since 1995, there has been a dramatic increase in bed bug infestations, due largely to an increase in travel. This epidemic is in full swing and worse than it has been in years. Fortunately, there are professional methods of treatment and ways to prevent infestations in your home.
Signs of Bed Bug Infestation
There are a few tell-tale signs of a bed bug infestation in your home. The list below will help you identify if your home is infested with these pests.
If you have a bed bug infestation, waiting to get help increases the chances of spreading the pests in your home, car, workplace, and other locations you visit. It's critical to take action at the first sign of bed bugs.
Signs of a bed bug infestation:
The presence of eggs, which are tiny and white.
The presence of molted skins young bed bugs shed as they grow.
Small dark spots on your mattress or furniture. These spots are bed bug excrement and may bleed into the fabric.
Finding live bed bugs. Adult bed bugs are usually big enough to be seen on your furnishings or mattress.
Reddish stains on bed sheets or mattresses. These rust colored stains are caused by crushed bed bugs.
If these signs are present in your home, contact A-Landlords pest control services as soon as possible. Quick and efficient eradication helps stop further infestation and returns your home to a clean and comfortable environment your family can enjoy.
Milwaukee Bed Bug Exterminators Pest Removal Tips
With proper professional treatment, it is possible to fully eradicate bed bug infestations. DIY pest control methods are rarely successful. The high breeding rate of bed bugs ensures repeat infestations if any are missed.
The best treatment plans involve a combination of professional skill and homeowner help. Here are a few steps you can take in addition to professional treatment, to ensure successful extermination of your bed bug infestation:
Reduce clutter where bed bugs can hide. This includes items on shelves and counters.
Physically remove bed bugs through vacuuming and cleaning. Normal household cleaning will help reduce the number of bed bugs throughout the home.
Wash bedding, clothing, and curtains on the hottest setting the washing machine has and dry them on the hottest dryer setting. For items that cannot be washed (stuffed animals, etc.), place them in the dryer on high temperature for 30 minutes.
If your mattress is infested, do NOT sleep somewhere else in your house. As awful as this may seem, it will cut down on the infestation expanding to other areas in your home. Seal your mattress in plastic to starve any that are hiding on it, but be careful to not accidentally tear the fabric so the trapped bed bugs have an escape route.

With the addition of A-Landlords' professional pest control services, these home pest control methods can help you regain a healthy, comfortable, and pest-free household.
Milwaukee Bed Bug Experts Provide Bed Bug Prevention Ideas
Once you've gotten your home free of bed bugs there are several steps you should take to prevent another infestation. These tips also work great for those who have not experienced the struggles of infestation but would like to avoid being in a similar situation.
With bed bug infestations becoming extremely prevalent it is a good idea to share these tips with family and friends to help stop the spread of these pests.
Ways to prevent bed bug infestations:
Travelers should immediately wash their clothing in hot water and vacuum their suitcases upon returning home to remove any bed bugs that may have been picked up from hotels or other homes.
Cover mattresses and box springs with a plastic cover designed to keep beg bugs out.
Thoroughly inspect used furniture, thrift store items, or yard sale purchases for bed bugs before bringing them into your home. Better yet, don't bring them into your home!
Never pick up discarded bed frames, upholstered furniture, mattresses, or box springs you find on the curb. These may have been thrown out due to a bed bug infestation.
Awareness and prevention is the key in the fight against the bedbug epidemic. When in doubt, contact a pest control specialist in your area for advice on potentially infested furniture or bedding you would like to bring into your home.
Bed Bug Specialists Deliver Superior Pest Management Services
Our Milwaukee bed bug specialists have shared their professional tips with you to stop the bed bug infestation epidemic from reaching your home. Treatment, prevention, and awareness are the most important steps to your bed bug solution.
If you have a bed bug infestation, use the bed bug exterminators Milwaukee relies on for quality work at affordable prices: A-Landlords Pest Management.
Contact our Milwaukee bed bug specialists today for superior pest management services at cost-effective prices.