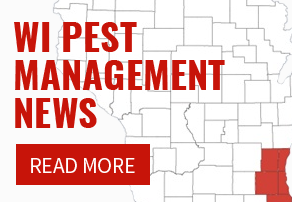 Milwaukee Mice Control Specialists
Mouse Exterminators Since 1986
In the Milwaukee area, the main culprit in rodent infestations is the house mouse (Mus Musculus). It is a small, slender rodent, usually grayish brown with a gray or light-colored belly. It typically has beady black eyes, big ears with not much hair, and an almost hairless tail with noticeable scale rings.
Check out our house mouse identification guide for more info.
How to get rid of mice:
1. Find and eliminate any entry points.
2. Figure out their patterns.
3. Choose the best mouse traps for your home/infestation.
4. Choose your bait. Some work better than others.
5. Place traps. Where you put the traps is crucial.
6. Take out mice outside your home too. This is easier said than done, but will prevent future infestation.
7. If you don't see results, contact a professional mouse exterminator.
Milwaukee Mice Exterminator's Advice on Avoiding Infestation
There are things you can do to reduce the risk of a mouse infestation. First and foremost, make sure there are no openings to your house. Even a tiny ¼" crack can provide an opportunity for a mouse to claw and gnaw his way in.
It's also recommended to: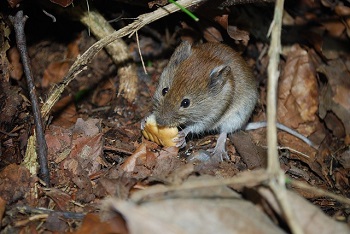 Keep garbage cans lids tightly closed
Stack firewood at least 18" off the ground and away from your house
Keep birdhouses and bird seed on poles and in trays
Regularly clean sheds and outdoor storage areas
Clear your home and yard of any rubbish
Do not compost any animal products
Remove fallen fruits and seeds from your property
Don't leave pet food outside
Keep trees and bushes trimmed back so rodents can't drop down from them onto your roof
Curring Mice Infestations In Milwaukee
There are numerous ways mice can get into Milwaukee homes and businesses. Cracks and holes in walls, floors and foundations, gaps in windows or ceilings, even sink and bathtub drains all provide an opportunity for mice to invade your home. They have a remarkable ability to squeeze themselves through very small openings, as small as ¼", and when searching for a warm place to winter they will look for small gaps they can widen by chewing. That being said, if it's winter, your rodent infestation is most likely these guys.
Once inside, they rarely leave. To make matters worse, mice reproduce rapidly. Within a matter of months you can have over 200 mice in your home or business. For a mouse infestation of this magnitude, you need a professional exterminator experienced in rodent control to eradicate the infestation. It's also a good idea to turn to mice control professionals at the first sign of mice. Typically, if you see one, they're not alone. Exterminators can prevent the infestation from growing.

Mice Infestations in Milwaukee—More Serious Than You Think
The dangers of having a mouse infestation are more serious than many people think. Contact with mice, mice urine, or mice droppings has been linked to a number of human diseases, including leptospirosis, typhus, rat-bite fever, tapeworms, and salmonellosis (food poisoning). Mice have also been found to transmit diseases to pets and other animals. Just cleaning up mice droppings can put you at serious risk of infection if proper safety precautions are not taken. For instance, you should never sweep them up, as this can release contaminants into the air. Always wear gloves and throw away the paper towel or cloth used for picking up the droppings.
It's recommended you dispose of any clothing that has come into contact with them during cleaning. All surfaces should be thoroughly disinfected and any food the mice got into should be thrown out.
In addition to the health issues of having a mouse infestation, consider their propensity for ruining documents stored in cardboard boxes and food in plastic or paper containers. In addition, mice can do substantial damage to your home from gnawing and digging. Wood particle board, drywall, and insulation can all be quickly compromised by a colony of mice. Since they often make their nests in large electrical appliances, they can also chew up electrical wiring and cause short circuit malfunctions or even fire.
Pest Control for Milwaukee Homes and Businesses
If you have mice in your home or office, the best course of action is to contact a Milwaukee residential rodent control specialist like A-Landlords Pest Management. Not only do we have the experience to safely deal with the infestation, but techniques and materials that have proven to provide complete removal. A-Landlords will deal with the mice infestation and take meaures to ensure it doesn't happen again.
Got mice? Contact our Milwaukee rodent control specialists today for professional pest control services at reasonable prices.