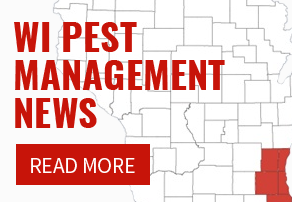 Milwaukee Termite Exterminator
SE Wisconsin Termite Pest Control
How to get rid of termites.
Subterranean termites live in the soil and will enter your home, business or property from underground. In this instance, the soil around your property will need to be treated with termiticide.

DIY termite treatments

are unlikely to work and

won't keep termites from coming back

as professional extermination methods will.
Hire professional termite exterminators.
A-Landlords Pest Management has the skilled Milwaukee pest control experts you need to get rid of your termite infestation quickly and effectively. We use a wide range of proven methods and techniques to eradicate even the toughest termite colonies.

Where do termites live?
Termite infestations often go undiscovered for years, causing serious damage to your home or business. It is critical to check for termites and act quickly if you discover a colony. Termite colonies work at destroying your home 24/7 and are capable of making substantial progress in just a few days. So don't wait! Termites are one of the most damaging pests our professionals eradicate.
Where you're most likely to find termites:
Crawl spaces
Home exterior
Utility pipes
Foam insulation panels
Woodchips
Soil around your home
The abundance of termite habitat in your home makes removing an entire infestation difficult. Our Milwaukee termite exterminators have the skill and experience to successfully get rid of the infestation AND keep them from coming back.

Signs of Possible Termite Infestations
One of the earliest signs of a possible termite infestation is discarded wings on or near windowsills and doors. Mud tubes are a clear indicator of subterranian termites presence. Used to travel between the termite colony and the food source, mud tubes can be found near a home or businesses foundation. The most noticable sign of a termite presence is wood damage. Termites eat many types of wood from the inside out so another sign that goes along with wood damage is hollow sounding wood when it is tapped or knocked on. If you are experiencing any of these signs call A-Landlords to receive a free estimate and rid your home or business of termites.
Milwaukee Termite Exterminators Protect Your Home from Termite Destruction
Our Milwaukee termite exterminators understand your home or business is an investment you want to protect. With A-Landlords pest management experts working hard to rid your home of damaging termite infestations, you can rest easy knowing your investment is safe. Protect your home from termite damage with the pest control company Milwaukee relies on for cost-efficient, high quality termite extermination services.
Stop Milwaukee Termite Infestations in your Home and Business
Worker termites can chew through a substantial amount of housing material before being discovered. Minimize the risk of a termite infestation by removing moisture sources on, in, and around your home. Limiting termites' access to food such as wood, paper, cloth and water lowers the likelihood of an infestation. Be on the lookout for tell-tale signs of termites. Thin termite mud tubes running along walls and the sudden appearance of numerous winged insects inside your building are signs of a potential termite infestation. If your house has termites, contact Milwaukee's termite control experts immediately. Stopping an infestation soon can save your home and business from severe termite damage.
Contact our Milwaukee termite exterminators today to rid your home of a damaging termite infestation at cost-effective prices.