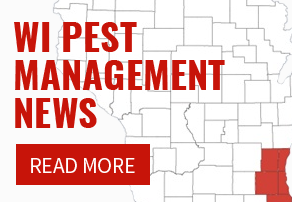 Wisconsin Stink Bug Exterminator
How to get rid of Stink Bugs.
Our exterminators receive calls for Stink Bugs year round in Southeast Wisconsin, but it's more common during colder months.
The best DIY method for Stink Bug removal:
Vaccuum them up and dispose of them outside where they'll freeze OR flush them down the toilet. Don't try this with a bagless vaccuum - your vaccuum will take on the odor of the insects afterwards.
When attempting to get rid of Stink Bugs in your home, DO NOT:
Touch them with your hands.
Use insecticides indoors.- Powerful insecticides place yourself, your family, and your pets at risk if deployed inside your home. The dead insects may attract other pests like carpet beetles or spiders into your home and lead to another infestation.
Crush them
The Best Method for Getting Rid of Stink Bugs
Hire a professional Stink Bug exterminator.
With decades of experience providing the most cost-effective, high-quality services in the Milwaukee, West Allis and Wauwatosa, A-Landlords is the best pest control service provider for affordable and effective Stink Bug eradication.
Our Milwaukee stink bug control experts use the most effective techniques refined over years of pest control experience. We pride ourselves on delivering unbeatable results for all of our clients. If you feel your home is infested with Stink Bugs, call A-Landlords for affordable extermination services - if you see one, there's probably more!
Exterminating Stink Bugs in Wisconsin
Stink Bugs are one of the most common pests we face every winter, so we know how to properly get rid of them. We thoroughly examine all of our client's homes and/or businesses to determine the source of the infestation and select the most effective solution. We'll walk you through the process and explain everything in detail so you know what we plan on doing.

A-Landlord's Industry Leading Stink Bug Extermination
A-Landlords Pest Management is the leading stink bug extermination company in Southeastern Wisconsin. Our services are affordable and performed with the highest safety & quality standards. Don't male your pest or rodent problem worse by attempting to fix it yourself or settle for a mediocre exterminator.
Contact our Milwaukee ant control exterminators today to schedule an appointment or to learn more about our comprehensive pest control services.