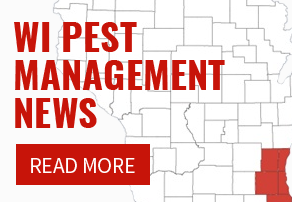 5 Summer Pest Control Tips: Wisconsin Exterminator Services
Summer Pest Control / Prevention
Wisconsin summers see the most concentrated activity of insects, rodents, and other wildlife. For most pests, Spring and Summer are the breeding season. As pest populations increase and pests remain active during warmer temperatures, the chances of pest problems skyrockets.
5 Summer Pest Prevention Tips
1. Find & seal any cracks or openings in your house. While it's warm out, insects present the biggest threat of moving inside. Even the smallest openings will be taken advantage of. Check for openings in your foundation, siding, screen doors and windows, etc. and get them closed up or covered.
2. Maintain your yard. Unkept and overgrown grass is the perfect breeding ground for countless pests. Be sure to cut your grass regularily and trim any bushes or trees. Firewood should be stored away from your house. Any debris around your yard should be removed.
3. Keep an eye on lawn furniture, gutter and roof overhangings, & playsets. These spots are a favorite for insects to build summer homes - spider webs, bee hives, egg sacs, etc. NOTE: outdoor spider webs in your yard can actually help control populations of other pests - refrain from getting rid of spiders unless they become a nuissance.
4. Keep your house/property clean. The biggest attraction to any pest is bait. Food and crumbs left out will attract a wide variety of pests. Be sure to sweep and vacuum regularly; wipe down countertops, take the garbage out, and keep food sealed.
5. Eliminate standing water. The most notorious Wisconsin summer pest, the mosquito, breeds in standing water. This is why mosquitoes are especially bad around lakes, ponds, and wetlands. Be sure to check for leaky rain spouts, leaks around your AC unit, and always rinse out your pet's water bowl.
Most Common Spring & Summer Pests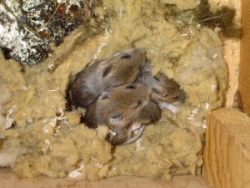 There are many pests that you might find year round. Roaches and bed bugs are good examples of that. But there are other pests that you're far more likely to find when it's warm and humid outside.
Common Summer Rodent Pests:
Common Summer Insect Pests:

Summer in Wisconsin is the breeding season for most pests. As their populations spike, the chance of them becomming a nuissance in and around your home increases. If you notice any unwanted rodents or insects around your property, contact A-Landlords today to get rid of them and keep them from coming back.
Dealing With Pests on Your Property
It's important to understand your yard, and the area around it, is home to wildlife. Your yard represents a complex and delicate ecosystem. If you notice a few spiders, dragonflies, or grasshoppers, it's be best to keep them around as long as they stay outside. Exterminating insects like these will lead to larger populations of the ones they eat, like mosquitoes, houseflies, fruit flies, etc. Similar rules apply to rodents. As long as they stay outside, chances are they're are fulfilling a role in the ecosystem.
If these animals make the move inside or build on your house, they become pests, and that's where A-Landlords comes in. Rodents burrowing beneath the foundation, wasp nests on your building(s), and animals inside your house are common examples of necessary pest control.
Exterminators with Experience
Chances are, if there's one, there's more. Because spring and summer represent the major breeding season for most animals, if you find one inside your house, it's safe to say the litter/offspring aren't far away. With most pests, these populations will continue to expand as long as there's enough food, or until you take countermeasures. A-Landlords knows the best ways to prevent bugs and rodents from traveling around the house and relegating them to such a small area that the pests will not be able to get enough food to sustain themselves. A-Landlords: problems solved.

Places Pests Most Commonly Hide:

In your walls
In your basement
Under your bed
In undisturbed closet space
In your garage
In your attic
Under your furniture
In toy chests
Near food sources
Behind wood paneling
Preventing Pests from Entering Your Home
A-Landlords knows how to stop pests from entering your house. We know what to look for, the signs and symptoms of where bugs could enter your home.
Your exterminator always brings the right chemical solution to get the job done. Call today. Tell us what kind of bugs you're dealing with. Tell us the approximate size of the infestation. Or, maybe you don't have an infestation. Maybe you're looking to stop bugs before they even start looking for refuge. We're experts. A-Landlords finds and seals any possible entries to your home before pests think to hide there. Call today. We've got you covered.

Contact A-Landlords today, and pests don't stand a chance.